ABOUT US
Tywardreath Morris was formed in 2010 as a mixed morris dance side to give local people a chance to dance without having to travel long distances.
We started with a mix of about half people who had danced morris before and half who had no idea what they were in for. Over the years we have kept this mixture and have also kept a roughly half and half split between men and women.
We have also kept a membership of around 20 people - dancers and musicians. Most of our musicians also dance, resulting in an ever changing line up for the band as they switch between roles throughout the performance.
Our name comes from the village of Tywardreath in south-east Cornwall where we are based. The village is probably best known from Daphne du Maurier's book "The House on the Strand" which refers to the priory that once stood in the village.
Our costume includes black trousers, white shirts and black and gold baldrics which reflect the colours of the Cornish coat of arms. The Cornish bezants are embroidered on the front of the baldrics and each member of the team has a logo of their choice embroidered on the back - you can see these logos by looking at the meet the team page.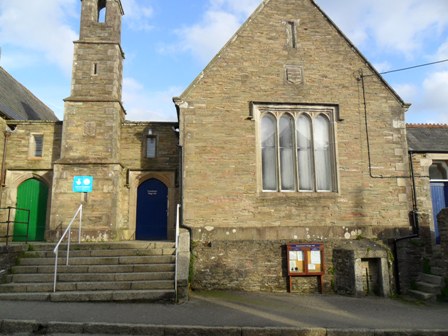 We practise throughout the winter every Wednesday evening in Tywardreath Village Hall (PL24 2QG) and adjourn to the New Inn pub after practise. In the summer we dance on Wednesday evenings at various pubs in the surrounding area. We are also available for bookings and have in the past danced at a very wide range of events including weddings, funerals, wassails, fetes, fairs, care homes and the Memory Cafe at Newquay hospital. Our most popular and longest standing event is our local Tywardreath village fete held in the garden of the New Inn each August. We first danced in public at this event in 2010, and have been dancing there ever since.
You can find out where we will be dancing by looking at the Diary page.
We always welcome new members so if you think you might be interested in joining us either as a dancer or a musician please get in touch. No experience is necessary and no commitment is involved.
We look forward to meeting you either at practice or at a dance out.